Welcome to Notes from the Kitchen!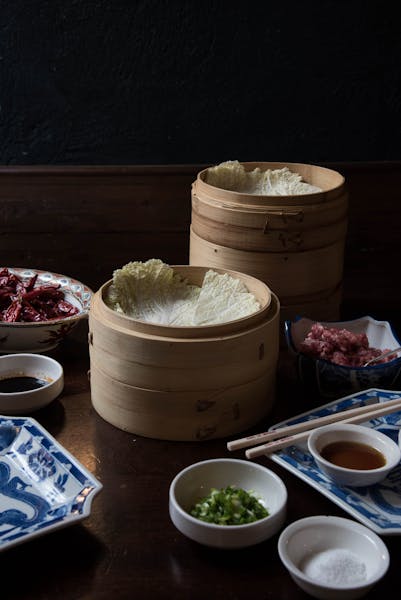 Welcome to our blog Notes from the Kitchen!
This blog won't be a bland recounting of what's currently available in the marketplace (that's what's on our menu) or a strict listing of events we have planned (although there will be some of that). Both of Kings Co Imperial's owners are culinary trained, as it were, so Notes from the Kitchen can encompass just about any restaurant topic and theoretically still come from the kitchen.
We have certain philosophies at KCI that might not be apparent to diners because we try not to wear them on our sleeves. We want our food, our service and our vibe to speak for themselves with minimal editorializing. That said, there are certain things that make us different from many restaurants in New York and even different from many Chinese restaurants in a city filled with great Chinese restaurants. Notes from the Kitchen will be an attempt to let you in on a few of the ideas we have about the food we cook and the restaurant we run. Sometimes this will be as simple as a recipe that we think adapts especially well to the home cook or sometimes it will be a rant about a topical restaurant debate. We reserve the right in this blog to say whatever we want as long as it relates to food and restaurants.
So let's start with why we do what we do. If you take one of our dumpling classes or sit down with us to design a menu for a party you will have likely heard this spiel before. And please forgive the liberal use of quotation marks used to delineate slippery phrases, we know they're annoying.
We believe that Chinese food is, objectively, the greatest cuisine in the world. In a word, what makes Chinese food the best is diversity. We recognize that trying to define "Chinese food" is as meaningless as trying to define "western food" or even "American food" (are we talking about South America, Central America, or what?). Indeed, "western food" to a chef from France looks very different to a chef from Italy. But as long as people insist on talking about "Chinese restaurants" we'll play along and maintain the cuisine's supremacy.
China has more recipes than any other country on the planet and more regional styles. From the Imperial food of the ruling classes, which employ some of the most sophisticated culinary techniques in the world, to the food of the enormous population, which is gorgeously tied to the land. From curries, kabobs and breads in the north and west to the fiery heat, pickles and fermented goodness of Sichuan Province, China has it all and everything in between. And all of this variety, both high and low, is fiercely steeped in tradition. That brings us to the first and main thing that makes Kings Co Imperial a little different.
We are not a fusion restaurant in the sense of "east meets west". You won't find foie gras lo mein or corned beef potstickers on our menu. But we are one of the most fusion restaurants in NY when it comes to cooking Chinese food from all over China and indeed from all over the world. We employ only traditional Chinese cooking techniques and almost all of our ingredients are Chinese, but maybe precisely because we are not classically trained Chinese chefs, we cook the Chinese food we love, regardless of what part of China it comes from. We also love "American Chinese food", that strange hybrid cuisine that mostly has its roots in China (fortune cookies and crab rangoon notwithstanding), but has morphed into something wholly different and unique and to our mind is a delicious cuisine in its own right. That's not to say we don't have a flavor profile. We most certainly do. What it means is that you will see staples of American Chinese restaurants like fried rice, egg rolls, and duck sauce on our menu right alongside more traditional Chinese dishes like mapo dofu and ants climbing a tree. You will see eggplant grown in our garden, thrown in a pot and stewed served alongside xiao long bao soup dumplings made by some of New York's most experienced and proficient dumpling makers.
We grew up on the Chinese food of New York and Philadelphia and branched out thereafter, traveling extensively in China and Southeast Asia, cooking in Chinese restaurants here and abroad, and the only consensus we could reach was that we loved it all. We love Chinese food in all its expansive and diverse glory and in the end we must cook what we love.
So there it is. A windy explanation in broad strokes about what makes Kings Co Imperial a little bit different. Oh, we also love cocktails, so there's that.
Stay tuned in our next blog for some more specific kitchen particulars that define what we're about, for example being slavishly tied to the concept of "wok hey" and cooking everything in broth instead of oil. It's guaranteed to be a page turner (that's sarcasm)…